Are you ready for the Open Enrollment Period (OEP)? ‌ ‌ ‌ ‌ ‌ ‌ ‌ ‌ ‌ ‌ ‌ ‌ ‌ ‌ ‌ ‌ ‌ ‌ ‌ ‌ ‌ ‌ ‌ ‌ ‌ ‌ ‌ ‌ ‌ ‌ ‌ ‌ ‌ ‌ ‌ ‌ ‌ ‌ ‌ ‌ ‌ ‌ ‌ ‌ ‌ ‌ ‌ ‌ ‌ ‌ ‌ ‌ ‌ ‌ ‌ ‌ ‌ ‌ ‌ ‌ ‌ ‌ ‌ ‌ ‌ ‌ ‌ ‌ ‌ ‌ ‌ ‌ ‌ ‌ 
Are you ready for the Open Enrollment Period (OEP)?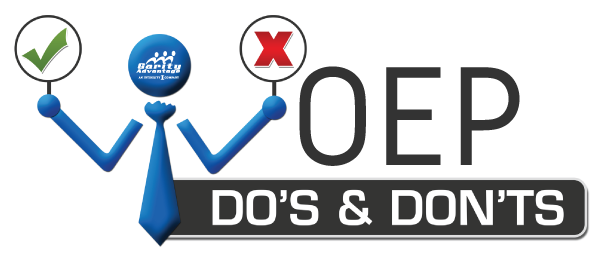 January 1 through March 31 each year.
Individuals enrolled in an MA-Only or MAPD plan

CAN

:
use the OEP to switch to or get a different MAPD plan, an MA-only plan, or Original Medicare (with or without a PDP).
Individuals enrolled in Original Medicare

CANNOT

:
use the OEP to join an MA or MAPD plan, add a PDP, or change their PDP.
In addition, the OEP is not available to those enrolled in Medicare Savings Accounts or other Medicare health plan types (such as cost plans or PACE).
Producers May NOT:
Send unsolicited materials advertising the ability/opportunity to make an additional enrollment change or referencing the OEP

Specifically target beneficiaries who are in the OEP because they made a choice during AEP, by purchase of mailing lists or other means of identification

Engage in or promote agent/broker activities that intend to target the OEP as an opportunity to make further sales

Call or otherwise contact former enrollees who have selected a new plan during the AEP

Use marketing pieces that highlight the OEP or the opportunity to change plans during the OEP

Make assumptions on which election period to use.
Producers May:
Educate consumers about the OEP if you are enrolling them into a plan, or they have reached out to you about their dissatisfaction with their current plan
At a beneficiary's proactive request, send marketing materials, have one-on-one meetings, and provide information on the OEP
Market to age-ins (who have not yet made an enrollment decision)

Market to five-star continuous enrollment Special Enrollment Period when 5 Star Plan are available in your area

Market to dual-eligible and low-income subsidy (LIS) beneficiaries who, in general, may make changes once per calendar quarter during the first nine months of the year
PRODUCERS

MUST

:
Determine if the consumer has a valid election period and which election period is best for the consumer's circumstances.
We hope you take advantage of this additional enrollment period happening in Q1 2023. Below is a link to a helpful carrier information sheet courtesy of Aetna to further clarify the do's and don'ts you need to follow to ensure you remain compliant.