What search engines look for when ranking sites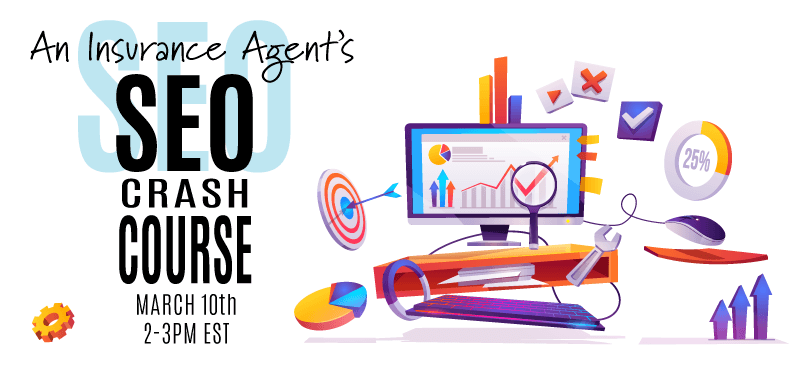 Every agent dreams of having search engines deliver a steady stream of new prospects to their website. Launch a website and head to the beach while leads come pouring in.
Yes, this DOES happen!
But for most agents, this simply isn't the reality.
Here's what you need to know:
Getting ranked by search engines does not happen by accident.
To get search engines to deliver customers to you, you need to know how to make it happen, be ready to do the work, and (maybe most importantly) understand what to expect.
If you are interested in getting more leads from your website, or just thinking about ways to launch or improve your online presence, our upcoming free webcast is for you. It may be just the boost you need to see new, qualified leads magically land in your lap.
To clear up all of the SEO myths and dreams, and to give you a plan of action, we're bringing in our insurance website partner, AgentMethods, to present the webcast "An Insurance Agent's Crash Course on SEO – Dreams and Reality".
During our time together, you will learn…
| | |
| --- | --- |
| | What search engines look for when ranking sites |
| | The most important phrase you should be focusing on right now |
| | How to set realistic expectations to rank in your niche and marketplace |
Thursday, March 10th | 2:00PM – 3:00PM EST
You will also walk away with an executable game plan you can use right away to begin improving your website's SEO and start generating new leads.
AgentMethods has helped thousands of agents build beautiful websites and more importantly… GET FOUND online.
Garity has negotiated discounted pricing for all AgentMethods services including Website Development, Marketing Engine and One Page Express Sites. Find out more here!
GarityAdvantage Agencies
800-234-9488
GarityAdvantage is a National Marketing Organization (NMO) for the top local, regional and national Medicare carriers. We approach our role with brokers a bit differently than our competitors – as we provide local market teams to work with you side-by-side to ensure you succeed. This allows us to actively develop targeted lead programs and local market opportunities to help you prospect and sell as well as deliver personalized training, ongoing marketing support and co-op funding to support your specific needs. We also offer the latest tech tools to help manage your business including efficient lead calling tools, agent dashboard, CRM and Medicare Select-a-Plan, our virtual quote and enrollment platform. Rounding out our support is a back office team helping you every step of the way with contracting, commissions, enrollments and compliance. Plus, all broker commissions are paid directly to you. You get the whole pie, not just a piece of it! Call us today to learn more!