Looking for a NEW way to drive Medicare business?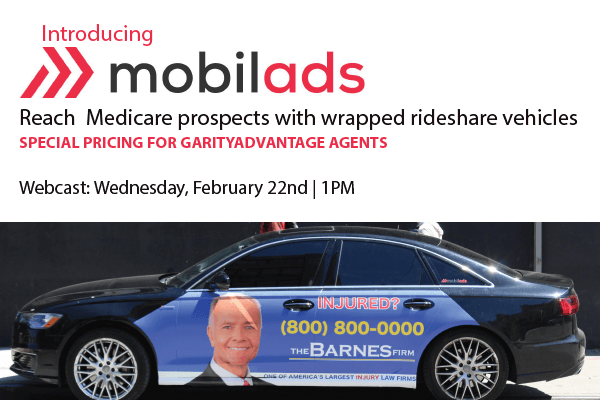 Looking for a

NEW

 way to
drive Medicare business?
Wrap Uber/Lyft vehicles in your area with targeted marketing messages about your agency using mobileads partner fleet!
Meet mobilads: Garity's latest marketing partnership chosen to give you a head-start in the race to AEP
Leverage wrapped rideshare vehicles in a city near you to create awareness, increase inquires, and ultimately drive prospects to your business. Learn how this unique marketing option can work for Medicare brokers and take advantage of the special discount we negotiated for our contracted agents.
mobilads Mass Awareness campaigns puts your marketing message on a fleet of Premium Uber and Lyft drivers driving 40+ hours per week in high-traffic areas throughout downtown and surrounding neighborhoods or targeted zip codes. YOU choose the area, duration and artwork.
Join us for a  virtual introduction to mobilads and learn:
how mobilads powers your OOH (Out of Home) campaign

how mobilad experts can help you target the 65+ population near you including case studies

how to enhance your campaign with a Blitz

about the simple and transparent pricing (special reduced rates for contracted Garity agents!)
Webcast:
Rideshare Mobile Ads for Medicare Agents
Wednesday, Feb 22nd | 1:00 PM – 2:00 PM EST
Who is GarityAdvantage?
GarityAdvantage is a National Marketing Organization (NMO) for the top local, regional and national Medicare carriers. We approach our role with brokers a bit differently than our competitors – as we provide local market teams to work with you side-by-side to ensure you succeed.
This allows us to actively develop targeted lead programs and local market opportunities to help you prospect and sell as well as deliver personalized training, ongoing marketing support and co-op funding to support your specific needs. We also offer the latest tech tools to help manage your business including efficient lead calling tools, an agent dashboard and MedicareCENTER, a virtual quote and enrollment platform. Rounding out our support is a back office team helping you every step of the way with contracting, commissions, enrollments and compliance. Plus, all broker commissions are paid directly to you. You get the whole pie, not just a piece of it! Call us today to learn more or request your contract now.