eternalHealth 2024 Certification Instructions
Below you will find instructions to access and complete eternalHealth's 2024 Medicare Certifications. Follow the steps carefully and reach out if you have any issues.
Log in to Miramar: Agent to get started!
If you do not have a log in, click on "Register as an Agent"
Before beginning the program, agents should enable pop-ups.
How to enable pop-ups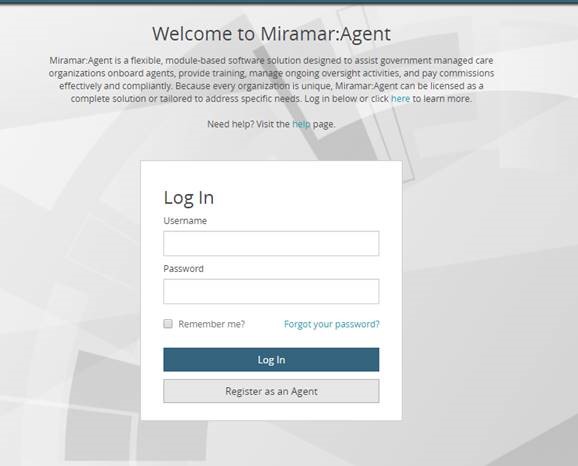 Once you are logged in, click on the "Register New" button as shown below to register for the eternalHealth program.
You will see a box appear where you can then input the Garity agent code*: 2024eternal2457, then click submit.
* Reminder, this code is unique to our agency so please do not pass it on. 

A box will pop up confirming your addition to the program.

Click on START to begin your certifications.

Once enrolled in the program, agents should complete all requirements and will receive a "Ready To Sell (RTS)" notification once all requirements have been met.
Compatibility
Compatibility for Miramar:Agent is tested with the following browsers:

Google Chrome
Internet Explorer 11
Mozilla Firefox
Microsoft Edge

Miramar:Agent is NOT compatible on tablets or phone.
It is recommended to sign off any VPN prior to starting certification.
The Knowledge Base in Miramar:Agent
The knowledge base has been updated, below are a few sections that agents may find helpful.

How to enable pop-ups: https://miramar-agent.com/#/knowledgeBaseArticle/4
Registration and Login section provides help with how to retrieve a username, reset password, register as a principal of an agency, how to change group affiliation and much more!
HelpDesk:
Agents should reach out to the Convey help desk with any technical issues they may experience. Ways to reach Miramar:Agent Help Desk:
Submitting a ticket: https://convey.na2.teamsupport.com/createticket

Calling: (855) 818-2052

Using Knowledge Base for FAQs: Miramar:Agent (miramar-agent.com)
NOTE: If the you select to take the 2024 Convey CORE Training then they will be stopped in their program until it is available. Miramar's targeted date to launch 2024 Convey Core Training is the week of August 7th, 2023.
GarityAdvantage Agencies
800-234-9488