Access the portal and certify today!
Kaiser Permanente 2022 Certification Instructions
Access Granted Individual Benefit Training Only, Integrity ID Code 2332
2022 Annual CMS Required Medicare Individual Plan Sales Compliance Training P&B Only – Integrity Agent Access Granted
You have been identified to take the Annual CMS Required Individual Medicare Sales Training.  If you feel you have received this notification in error, please contact AnnualMedicareSales-ComplianceTraining@kp.org
KP Medicare sales and account management and select others are required by Centers for Medicare & Medicaid Services (CMS) to successfully complete the following two Medicare training courses to market or sell individual KP Medicare Advantage products during the 2022 sales periods (5-Star SEP, Community Age-ins, etc.).
Kaiser Permanente 2022 Individual Medicare Products & Benefits Training: A one-hour web-based course offered via Convey Health Group which covers region-specific KP Medicare products and benefits for the individual plan segment.
This course includes an assessment that requires a score of 85% or higher to pass. Successful completion of the training is mandatory and considered a condition of employment at Kaiser Permanente.
Log in to Miramar: Agent, Kaiser Permanente's Certification Portal, to get started!
If you do not have a log in, click on "Register as an Agent"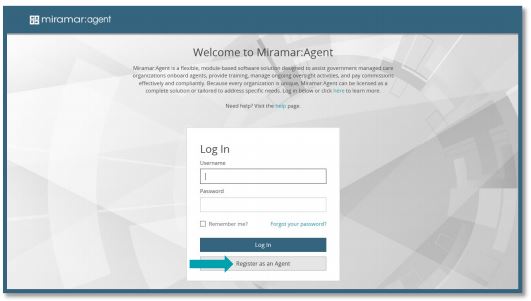 Once you are logged in, click on the "Register New" button as shown below to register for the Kaiser Permanente program

The Registration Code you need to register for your training program is: KPINT2061 It is important that you do not share your PIN code with your colleagues, as each code is designated to a specific training workflow. If you enroll and take the wrong training module, you may have to take the training again to satisfy your requirement. You may also refer to the Agent User Guide or FAQ for further instruction.
You will see a box appear where you can then input the Garity agent code KPINT2061, then click submit. 

Important information about the training:
The training courses may be relatively simple for those of you who have taken it over the years, but please do not try to fast forward through the slides. Agents are required to view 100% of the materials.
Additional Notes:
Have your AHIP PDF ready to attach as that will be required even if you already transmitted.
The following browsers are recommended:  Firefox, Chrome and Internet Explorer (IE) 9+ (IE 11 is best)

 

If your question is not addressed in the attached Agent User Guide or FAQ, please contact AnnualMedicareSales-ComplianceTraining@kp.org. You can also contact Convey / Miramar:Agent Customer Service at (855) 856-7852.
GarityAdvantage Agencies
800-234-9488